About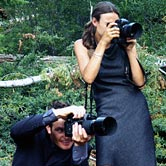 Thank you for visiting our website.
We are a married team who have been shooting weddings for over 10 years. We like to shoot digital and film and enjoy using a wide variety of cameras both old and new. Our images have appeared in numerous magazines including People Magazine, InStyle Weddings, American Photo, Town and Country Weddings, PDN and Rangefider. We have also created images for various national advertising campaigns.
What attracts us to wedding photography is catching the perfect moment and faithfully documenting our clients and their loved ones in the most beautiful and natural way possible. We love to embrace the location, the weather and we strive to keep the day simple, fun and stress free. Our goal is to capture beautiful images that will stand the test of time.
We like to let the day unfold, observing and capturing moments rather than orchestrating them. We believe that chemistry is an important factor in creating spontaneous images. We want our clients to be at ease with our presence so that we can capture intimate moments that define their unique personalities. We know that deciding on a wedding photographer can be challenging. In our opinion, the most important element is to love their work. Secondly, you have to find someone you're comfortable with.
If you like our work, we would love to meet you and discuss your wedding.
Sincerely, Amy & Stuart